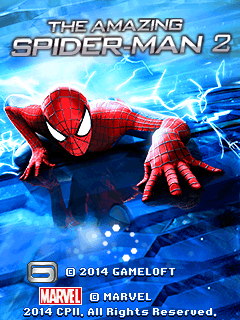 Added
: 29.04.2014

Downloads
: 532082 div>

Vendor
: Gameloft

Description
: Become the Amazing Spider-Man in this non-stop action, open-world adventure, and face the web-slinger's greatest challenge in the official mobile game for The Amazing Spider-Man 2 film! New York is under threat from a city-wide gang war and only Spider-Man can stop it! Standing in his way is Electro and other nefarious villains. Can Spider-Man restore order and safety to the Big Apple?!
The game's characteristics and screenshots may vary according to the model of your phone.

Nokia C3-00 / E71 / E72 / X5-01 (
320x240 b>)

JAD
|
JAR
1.3MB

Nokia X2-01 / Asha 302 / Asha 303 / Asha 205 / Asha 200 (
320x240
)

JAD
|
JAR
1.3MB

Samsung GT-S3350 / GT-S3353 (
320x240 b>)

JAD
|
JAR
663.5kB
Terima kasih telah berkunjung di Blog
RAJAOLAH WAP
dalam postingan
Game The Amazing Spider-Man 2 320x240 jar
jangan lupa tinggalkan komentar anda..!
Sekian dulu postingan ku kali ini.
© 2018 RAJAOLAH WAP
All Rights Reserved.
Suported By Google